What is Dia de los Muertos (or Day of the Dead)?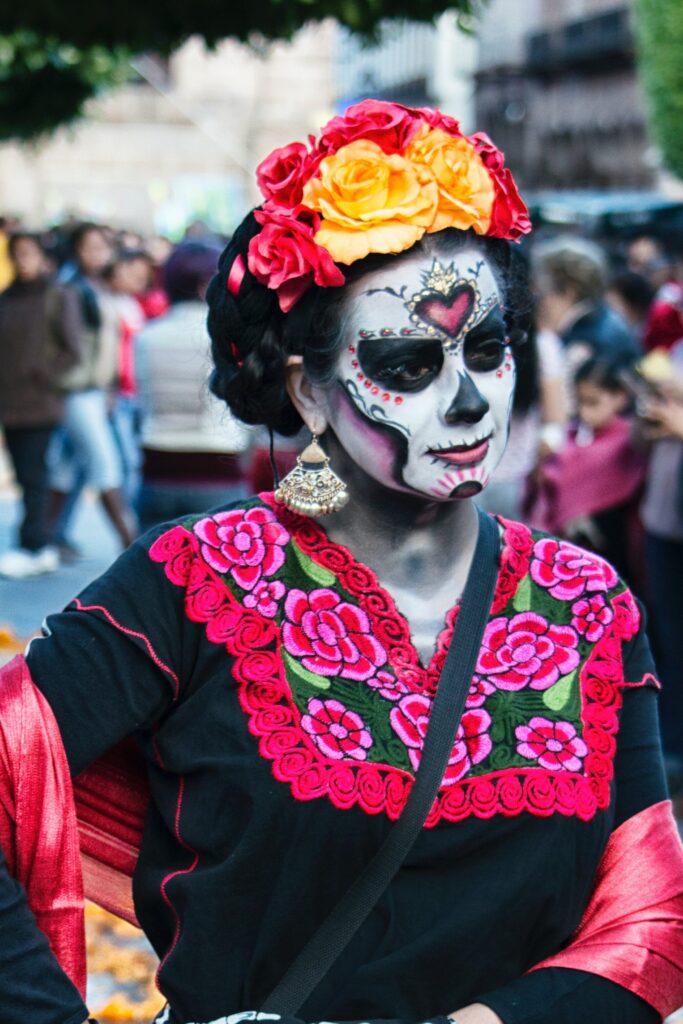 The bright tunes from the mariachis ring out. Soft and sweet pan de muerto sits for guests to eat and also as an offering on the ofrenda, an altar to memorialize those who are gone. Brightly colored papel picado adorns the spaces with intricate patterns carefully cut into them. This is the joyous sight of Dia de los Muertos.
Dia de los Muertos, or Day of the Dead, begins this year on Monday, November 1 and ends on Tuesday, November 2. While the holiday originated in Mexico, many other countries celebrate this holiday to gather their family and friends and remember those who have passed away. While death is the focus of this holiday, the atmosphere of these celebrations have a sense of levity, even humorous as funny tales are told to remember their loved ones by. One of the first things someone who has not celebrated Day of the Dead extensively, might associate this holiday with sugar skulls and offerings of food, drink and objects to lost loved ones. Another thing that occurs during these celebrations is music and dance.
Music & Day of the Dead
While there aren't necessarily one type of musical style or songs that are traditionally played during Day of the Dead, there are numerous types of traditional Mexican folk genres that are played during times of gathering and celebration. We're going to go through four large categories of traditional Mexican folk music that may find their way into Day of the Dead celebrations:
Corrido
Corrido is a form a music that acts more as a ballad. The songs are often about social topics such as oppression, day in the life of a criminal, heroic stories, horse races, amongst other subjects. Corridos were widely popular in the Mexican Revolutions in the 20th century, gradually making its way up to the Western United States which in part helped inspire what a lot of us recognize as Western music. Can you hear the similarities to those John Wayne films?
Banda
Banda music is a genre of band music that originated in the 19th century once metal instruments were introduced to mainstream communities and used to imitate the sound of military bands. It is one of several types of ensemble music that have roots in Mexico. This ensemble typically makes up the percussion, brass and woodwind instruments. This music also has an interesting mix of Mexican music and German polka music as many German immigrants lived throughout Mexico in the 19th century. Can you hear the two cultures in the following song?
Norteño
Norteño music is related to polka and corrido music which combines the first two types of music we've already covered. The difference with this subtype of Mexican folk music is the introduction of the accordion into the ensemble. Norteño originated in the Northern Mexico states of Sonora, Chihuahua, Coahuila and Nuevo Leon. Do you think the song had elements of the first two styles we've discussed?
Mariachi
Undisputedly, one of the most recognizable forms of traditional Mexican folk music, Mariachi music dates back to the 18th century. It comprises of a small ensemble of instruments including a vihuela, which is a five-string guitar, a guitarrón, a large, six-string bass, a six-string acoustic guitar and violins and trumpets. You may be familiar with the uniforms of mariachis. They don cowboy-like uniforms, inspired by the cowboys of Jalisco. The pants and jackets, typically adorned with beautiful accents. Mariachi music was traditionally all-male, but in recent decades there has been a push to include female mariachi performers. The difference in uniform would either be a modified version of the pants, jacket and boots or wearing a china poblana, which is a traditional outfit with a long skirt, blouse and a shawl draped over the shoulders. Have you heard mariachi music before?
Conclusion
Dia de los Muertos is a time for celebrating those who have departed and cherishing the memories we have of them. While remembering those you love, listen to a few of these songs or find new ones that bring you joy and light to a holiday that focuses on the fond memories of loved ones.

Sources:
Latin America Music Origins – https://www.britannica.com/art/Latin-American-music
Mariachi Music – https://www.liveabout.com/music-of-mexico-son-ranchera-mariachi-2141530