Generously sponsored by
2016 Season
Boston Landmarks Orchestra
DCR Hatch Memorial Shell
Charles River Esplanade, Boston
July 13 at 7:00pm
Opening Night: Rhapsody in Green
Music of the wilds and the countryside. Tan Dun's Secret of Wind and Birds mimics sounds and colors found in nature, incorporating birdsong activated by audience members on their cell phones. Michael Gandolfi's tribute to a garden in Scotland follows a tradition first established by Respighi, who introduced recorded birdsong into concert music in 1924 with his brilliant Pines of Rome.
In partnership with Conservatory Lab Charter School; Boston University Tanglewood Institute; Mass Audubon; and The Garden of Cosmic Speculation, Scotland.
Ralph Vaughan Williams 

The Wasps Overture
Tan Dun Secret of Wind and Birds
Aaron Copland Music for Movies
Michael Gandolfi The Garden of Cosmic Speculation – Part I
Ottorino Respighi The Pines of Rome
July 20 at 7:00pm
Pictures at an Exhibition
Peggy Fogelman, Director of the Gardner Museum, co-hosts an evening honoring the life and passions of Isabella Stewart Gardner. Highlights from the museum's collection and images from the Rockwell Museum in Stockbridge, MA—projected above the orchestra—are shown in coordination with the music. Mussorgsky's Pictures at an Exhibition is performed in Ravel's masterful orchestration.
In partnership with the Isabella Stewart Gardner Museum
Co-hosted by Peggy Fogelman, director
Stella Sung Rockwell Reflections
Modeste Mussorgsky Pictures at an Exhibition
Jacques Offenbach Intermezzo and Barcarolle from The Tales of Hoffman 
Peggy Stuart Coolidge Isabella (World Premiere)
Charles Martin Loeffler Divertissement espagnole
Manuel de Falla Spanish Dance No. 1 from La vida breve
Program Booklet
Text-to-Speech Program Booklet
Check out the wonderful video preview of this concert from our friends at the Norman Rockwell Museum!
July 27 at 7:00pm


Verdi & Valkyries



One of the greatest dramatic singers of her generation, Jane Eaglen, soprano, headlines a powerhouse program. Highlights from Wagner's Ring include The Ride of the Valkyries and the dramatic final scene of the cycle. The stirring Anvil Chorus precedes the New England premiere of a major work by Verdi, Libera me, a work which five years later he transformed into the dramatic conclusion of the Requiem.
Jane Eaglen, soprano
One City Choir
Back Bay Chorale (Scott Allen Jarrett, music director)
North End Music and Performing Arts Center Children's Choir

Giacomo Puccini Prelude to Act I of Edgar 
Puccini Opening, Madrigal, and Intermezzo from Manon Lescaut
Giuseppe Verdi Anvil Chorus from Il trovatore
Verdi Libera me, Domine (original version of 1869) New England premiere
Richard Wagner Das Rheingold selections
Wagner The Ride of the Valkyries from Die Walküre
Wagner Siegfried's Death, Funeral March, and Immolation Scene from Götterdämmerung
August 3 (starts at dusk; approx. 8:00pm)
Special Film Screening: On the Town
This evening we give the orchestra a well-deserved night off, and screen the classic 1949 movie musical On the Town, starring Frank Sinatra, Gene Kelly, and Ann Miller. The film is based on the 1944 Broadway musical by Leonard Bernstein, which in turn is based on his ballet Fancy Free—which the Landmarks Orchestra performs on August 17. Hit songs such as 'New York, New York' and Kelly's iconic dancing are among the highlights. Pack your picnic for an old school Hollywood musical film under the stars.
RESCHEDULED:
Thursday, August 11 at 7:00pm*
Landmarks Lollapalooza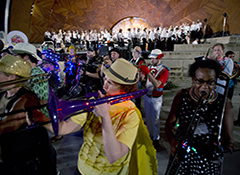 An open-air festival of sundry styles and celebrated classics. Musical treats from Gershwin to Adams to Grieg accompany the great Fifth Symphony of Tchaikovsky. All-Stars from East Boston's ZUMIX unveil their new pop-inspired creation. The night comes to a fitting close in collaboration with the Boston Area Brigade of Activist Musicians (BABAM!).
Jayne West, soprano
In partnership with ZUMIX, Longy El Sistema Summer Academy, and BABAM! including participants from the HONK! Festivals
John Adams Lollapalooza
Piotr Ilyich Tchaikovsky Symphony No. 5
George Gershwin Strike Up the Band Overture

Gonzalo Grau Elements (world premiere)
Edvard Grieg Peer Gynt (excerpts)
Program Booklet
Text-to-Speech Program Booklet
*Due to severe weather in the forecast on August 10th, this concert has been rescheduled to Thursday, August 11th at the DCR's Hatch Shell.
August 17 at 7:00pm


Footloose and Fancy Free
Movers and shakers from across the city converge on the Esplanade for a celebration of American and international dance. Leonard Bernstein's Fancy Free takes pride of place in an original interpretation by Yo-El Cassell and Boston-based performers. Youth from area Boys and Girls Clubs will "shake the Shell" along with outstanding companies of Armenian and Latin America dancers.
Yo-El Cassell, choreographer
Ryan Edwards, percussionist/composer
Patrick Greene, composer
Brian Mirage, dancer
In partnership with Camp Harbor View; Yawkey Club of Roxbury; Boys & Girls Clubs of Boston; One City Youth Movement; BAJUCOL; Sayat Nova Dance Company; 360°

Richard Rodgers On Your Toes: "Slaughter on Tenth Avenue"
Nikos Skalkottas Greek Dances 
Clint Needham Urban Sprawl (New England premiere)
Ryan Edwards/Patrick Greene Mabinte (world premiere)
Gonzalo Grau Hermana Frontera (Sister Border) (world premiere)
Kareem Roustom Armenian Dances: featuring Festive Armenia by Khatchatur Avetisyan
Leonard Bernstein Fancy Free
August 24 at 7:00pm
Longwood Symphony Orchestra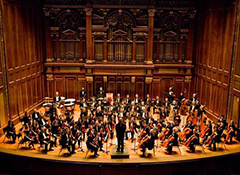 The annual performance at the Hatch Shell by Boston's medical community orchestra, always an innovator in programming and community engagement. Promoting music as a healing art, the Longwood Symphony serves the Greater Boston area through performances and programming related to their professions.
Ronald Feldman, conductor
Wolfgang Amadè Mozart The Magic Flute Overture
Kevin Kaska The Wizard of Menlo Park
Johann Strauss, Jr. Thunder and Lightning Polka
Antonín Dvořák Symphony No. 9 'From the New World'
August 31 at 7:00pm
Rodgers and Hart's The Boys from Syracuse
A Concert Performance—in music and dance
In collaboration with Commonwealth Shakespeare Company
Christopher Wilkins, conductor
Steven Maler, director
Peter DiMuro, choreographer
A landmark Broadway musical from the swing era is reborn on the Esplanade. The Boys from Syracuse, based on Shakespeare's The Comedy of Errors, is often considered the finest of all Rodgers and Hart creations. Familiar songs include 'Falling in Love with Love,' 'Sing for Your Supper,' and 'This Can't Be Love.' This 'concert performance with dancing' marks only the 2nd professional performance of the inimitable big-band style original 1938 orchestrations.
Neighborhood Concerts and Educational Programs
Sunday, July 10 at 6:00pm


Pinebank Promontory, Jamaica Plain
Free Family Concert

Boston Landmarks Orchestra Brass Ensemble
with Robert Schulz, drums
(program TBA)
The Landmarks Orchestra's annual performance at the beautiful
Pinebank Promontory, adjacent to Jamaica Pond,  presented in partnership with the City of Boston Parks and Recreation Department and the Emerald Necklace Conservancy. This event will also include a musical instrument playground.
Friday, August 19 at 12:30pm (weather permitting)
The Institute of Contemporary Art/Boston

Free Fun Friday!
sponsored by the Highland Street Foundation
Boston Landmarks Orchestra Brass Ensemble

with Robert Schulz, drums
(program TBA)
The Boston Landmarks Orchestra is proud to participate in Highland Street's Free Fun Fridays program for the second consecutive year. This year's performance takes place at the Institute for Contemporary Art/Boston outside by the grandstand overlooking Boston Harbor.