Generously sponsored by
Announcing our 2017 Season!
Boston Landmarks Orchestra
DCR Hatch Memorial Shell
Charles River Esplanade, Boston

July 19, 2017 at 7:00pm
Music for a Summer Evening (Opening Night)
Knoxville: Summer of 1915, Samuel Barber's setting of a prose poem by James Agee, evokes sweetly nostalgic childhood memories of summer. Elgar created his Enigma Variations as a musical gift for his wife and closest friends. With exuberance, humor, and warmth, he presents a separate variation—akin to a musical portrait—for each of them. Boston composer Peggy Stuart Coolidge composed The Blue Planet to accompany a poem written by her husband. In 1971, the World Wildlife Fund adopted it as their official theme song.  
Boston Landmarks Orchestra | Christopher Wilkins, conductor
Sonja DuToit Tengblad, soprano
Prelude: Boston University Tanglewood Institute Brass and Wind Quintets (student brass and wind quintets from BUTI will play as audience arrives, between 6:15 and 6:45)
Ralph Vaughan Williams 

English Folk Song Suite
Frederick Delius Summer Evening
Peggy Stuart Coolidge The Blue Planet
Samuel Barber Knoxville: Summer of 1915
Giuseppe Verdi "Winter" and "Summer" from I vespri siciliani
Edward Elgar Enigma Variations
Prior to the concert we will host our annual Environmental Fair around the Hatch Shell oval! Participating organizations will include: Boston Nature Center, Charles River Conservancy, Charles River Watershed Association, Community Boating, Environmental League of Massachusetts (ELM), The Esplanade Association, Fenway Victory Gardens, Friends of Jamaica Pond, Massachusetts Rivers Alliance, Massachusetts Water Resources Authority (MWRA), Ocean River Institute,  Zoo New England
July 26, 2017 at 7:00pm
Mercury Orchestra: Symphonic Opera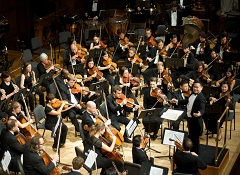 Channing Yu and his Mercury Orchestra have thrilled Boston area audiences every summer for a decade. Through skill, devotion, and truly ambitious repertoire some of the most talented amateur musicians in the region come together each year to deliver invariably memorable performances. This summer for the first time, they appear on the Esplanade as guests of the Boston Landmarks Orchestra. 
Mercury Orchestra | Channing Yu, conductor
Richard Wagner Die Meistersinger — An Orchestral Tribute
Richard Strauss Der Rosenkavalier Suite
Program Booklet
Text-to-Speech Program Booklet
Electronic Braille Program Booklet
POSTPONED to Thursday, August 3, 2017 at 7:00pm


Beethoven's Symphony No. 9



The drama of Beethoven's Ninth Symphony—a journey from darkness to light—is one of the glories of Western art. Beethoven believed in music's power to redeem a suffering humanity, to bring us closer to heaven in this life. His music to Goethe's play, Egmont, came at the apex of his "Heroic Period." The story honors the sacrifice of a nobleman condemned to death for resisting tyranny. The sublime Romance in F for solo violin and orchestra is among Beethoven's most sweetly lyrical instrumental works.

Boston Landmarks Orchestra | Christopher Wilkins, conductor
Adrian Anantawan, violin
Michelle Johnson, soprano
Emily Marvosh, contralto
William Hite, tenor
Ron Williams, baritone
One City Choir
Back Bay Chorale, Scott Allen Jarrett, Music Director
American Sign Language (ASL) Team: Adrianna Neefus, Jessica Palmariello
Ludwig van Beethoven Turkish March from The Ruins of Athens
Beethoven Violin Romance in F
Beethoven Incidental music to Goethe's Egmont
Beethoven Symphony No. 9
Program Booklet
Text-to-Speech Program Booklet
Electronic Braille Program Booklet
August 9, 2017 at 7:00pm


Anthems of the World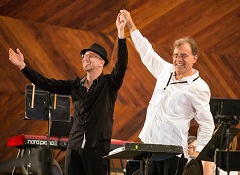 Fired by local pride, some of Western music's most passionate works are closely identified with their cultures of origin. At its premiere, Finlandia was heard to symbolize Finnish independence. It is now considered a second Finnish national anthem. Dvořák urged American composers to borrow from the spirituals, much as he had employed Czech folk songs in his own writing. Márquez's Danzón No. 2 has become one of the most popular of all orchestral dances. The young musicians of ZUMIX are featured in a Landmarks-commissioned work they have created with composer Gonzalo Grau.

Boston Landmarks Orchestra | Christopher Wilkins, conductor
ZUMIX
Boston String Academy, Marielisa Alvarez, Mariesther Alvarez, Taide Prieto, Co-Directors
American Sign Language (ASL) Team: Elbert Joseph, Sarah Adams, Adrianna Neefus
Jean Sibelius Finlandia
Amy Beach Gaelic Symphony: Alla siciliana (2nd movement)
Kareem Roustom Aleppo Songs (world premiere)
Arturo Márquez Danzón No. 2
Angelina Botticelli, Mario Duenas, Juan Gutierrez, Mario Jarjour
Composition guidance & Orchestration by Gonzalo Grau Views (world premiere)
Antonín Dvořák Symphony No. 8 in G major, op. 88
Program Booklet
Text-to-Speech Program Booklet
Electronic Braille Program Booklet
*Prior to the concert, we will host an Instrument Playground on the Esplanade where youth can explore different instruments and make their own music! The Instrument Playground starts at 6:00 pm.
August 16, 2017 at 7:00pm
Longwood Symphony Orchestra: A Night in Vienna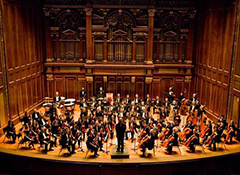 Boston's medical community orchestra has been a leader in innovative programming and community engagement for thirty-five years. Recognizing that music is at its essence a healing art, the Longwood Symphony serves the Greater Boston area through performances and programming related to the services these musicians provide in their medical professions. Music Director Ronald Feldman conducts.
Longwood Symphony Orchestra | Ronald Feldman, conductor
Ludwig van Beethoven 

Coriolan Overture
Franz Schubert Symphony No. 8 "Unfinished"
Wolfgang Amadè Mozart Symphony No. 31
Johann Strauss Jr. On the Beautiful Blue Danube
Strauss Jr. Accelerations
Program Booklet
Text-to-Speech Program Booklet
Electronic Braille Program Booklet
August 23, 2017 at 7:00pm
Landmarks Dance Carnival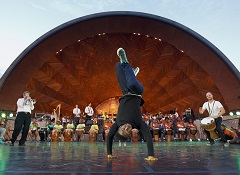 "Music to move by" from many cultures features dancers from across the city. Composer and drummer Ryan Edwards teams up with Apostolos Paraskevas to create a new work for young drummers and dancers from Camp Harbor View and the Boys and Girls Clubs of Boston. The evening culminates in a grand performance of Copland's Rodeo with choreography by Peter DiMuro. It will be hard for anyone to sit still for this season finale. But at Boston Landmarks Orchestra concerts, that's perfectly okay. Rain Date: August 24 at Hatch Shell.
Boston Landmarks Orchestra | Christopher Wilkins, conductor
Peter DiMuro, choreographer and curator
in partnership with Peter DiMuro/Public Displays of Motion; The Dance Complex; Boston Ballet II; Conservatory Lab Charter School; Camp Harbor View; Boys & Girls Clubs of Boston; Salsa y Control; Harney Academy of Irish Dance
Support and arrangement of dance artists on this program made possible by The Dance Complex
Johann Strauss Jr. Emperor Waltzes
Antonín Dvořák String Quartet in F major, op. 96, 'American' (2nd movement: Lento)
Pas de deux from The American choreographed by Christopher Wheeldon, featuring dancers from Boston Ballet II
Georges Enesco Romanian Rhapsody in A major, op. 11, no. 1
Robert Sheldon Danzas Cubanas
Leroy Anderson Irish Suite: The Girl I Left Behind Me and Irish Washerwoman
Ryan Edwards/Apostolos Paraskevas Santiago in the Stream (world premiere)
Aaron Copland Rodeo* (complete ballet)
"Pioneers" choreographed by Peter DiMuro in collaboration with those performing
Peter DiMuro/Public Displays of Motion and Boston Ballet II
*By arrangement with Boosey & Hawkes, Inc., publisher and copyright owner.
Support for this concert generously provided by: Music Performance Trust Fund (MPTF)
Program Booklet
Text-to-Speech Program Booklet
Electronic Braille Program Booklet
Neighborhood Concerts and Educational Programs
Tuesday, June 13, 2017 at 12:15pm


Harvard Business School, North Allston



Free Lunchtime Concert
Program TBA
The Landmarks Brass Quintet will play outdoors for a free, lunchtime recital at Harvard Business School, Boston, MA 02163.
Sunday, August 6, 2017 at 6:00pm


Pinebank Promontory, Jamaica Plain
Free Family Concert

Program TBA
The Landmarks Orchestra's annual performance at the beautiful
Pinebank Promontory, adjacent to Jamaica Pond,  presented in partnership with the City of Boston Parks and Recreation Department and the Emerald Necklace Conservancy. This event will also include a musical instrument playground.
Saturday, September 16, 2017  from 11:00am to 2:00pm


The Rose Kennedy Greenway, Boston, MA 02110
FREE Musical Playground
The Rose F. Kennedy Greenway Conservancy presents "Downtown Playdates" featuring a Boston Landmarks Orchestra Musical Playground
Location: Rose Kennedy Greenway (In the portion of the park between Oliver Street & Pearl Street and also bounded by Atlantic Avenue).
Instruments to be featured (subject to change) include: winds, brass, bells/percussion, and cello.