Generously sponsored by
Musicians Spotlight
Lisa Hennessy, Flute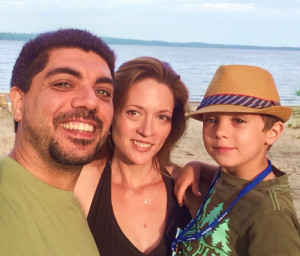 Lisa Hennessy is principal flutist with the Boston Landmarks Orchestra, Portland Symphony and Boston Ballet Orchestra. She also performs regularly with Boston Lyric Opera, Boston Philharmonic, Boston Pops Esplanade Orchestra, Rhode Island Philharmonic, and other orchestras and chamber ensembles throughout New England. Lisa maintains a private flute studio and has given masterclasses for the Greater Boston Flute Association, the Longy School of Music and the University of Southern Maine.   She holds a Master's in Music, with distinction in performance, from the New England Conservatory, and a Bachelor of Arts in Music, summa cum laude, from the University of Houston. While earning her degrees, Lisa was the winner of Boston's James Pappoutsakis Flute Competition and NEC's Concerto Competition. She has been a featured soloist on WGBH radio's Boston Performances and with Boston Landmarks Orchestra and Portland Symphony. Lisa has made recordings for the A & E Cable Network and the Naxos American Classics, Navona Records and Chandos labels.
Regarding her work with Boston Landmarks Orchestra, Lisa writes:
Most of the time, I play concerts in halls that seat 1500-3000 people, and occasionally in much smaller rooms for audiences of 50 or fewer.  With the wonderful outdoor venue of the Hatch Shell, though, we sometimes play for audiences of about 10,000 people.  It's very exciting to share live music with so many people simultaneously, and to feel their energy as they share a sensory and emotional experience.
And I love seeing all the kids at our concerts!  Because of Landmarks and its performances on the Esplanade, my son was able to attend his first concert when he was four weeks old.  With each passing season he participates more and appreciates more.  I imagine there are many other kids who are also becoming life-long concertgoers because of the fun they have at Landmarks concerts.
Having played with Landmarks since 2002, this orchestra feels like a family.  It's fun to work alongside your friends (who are all excellent musicians), and I am so proud to be part of this orchestra.
Dana Oakes, Trumpet
Dana attended the New England Conservatory in Boston, where his teachers included Robert Nagel, and Charles Schlueter.  He was awarded a performance degree with distinction in 1982.
Some of his first professional work during school was with Sarah Caldwell and the Opera Company of Boston, cutting his teeth on many of the operatic workhorses by Puccini, Verdi, Bernstein and numerous contemporaries. He currently holds positions in the Boston Ballet Orchestra, the Portland Maine Symphony, the Boston Philharmonic, and has been principal trumpet of the Boston Landmarks Orchestra since its inception with Charles Ansbacher in 2000.
Dana was solo trumpet of Gunther Schuller's New England Ragtime Ensemble, as well as Boston Musica Viva. Other groups include the Rhode Island Philharmonic,  Albany Symphony,  Boston Lyric Opera,  Boston Modern Orchestra Project (BMOP), and Chorus Pro Musica. Dana can be heard on numerous soundtracks for PBS and A&E as both background musician and soloist.
Robert Schulz, Percussion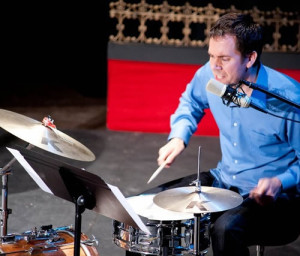 Percussionist Robert Schulz is widely regarded as one of the finest all-around percussionists working today, with an expertise extending across a broad range of musical styles, ensembles and instruments.  He is principal percussionist for the Boston Landmarks Orchestra, Boston Musica Viva, Dinosaur Annex New Music Ensemble and "house drummer" for Albany Symphony's Dogs of Desire.  He has been with Boston Modern Orchestra Project since its inception in 1996 and with Boston Landmarks Orchestra since 2001.  He is principal timpanist for several ensembles including the Boston Baroque, Cantata Singers, Back Bay Chorale and Odyssey Opera.  He's worked with the Boston Symphony, Pops and Ballet Orchestras as well.  Schulz has been a guest soloist with the Boston Chamber Music Society and the Boston Celebrity Series on numerous occasions, performing on instruments ranging from dinner plates to African drums. In 2004, Mr. Schulz received a Grammy Award nomination for Best Small Ensemble Performance on Yehudi Wyner's The Mirror (Naxos) and gave the premier of Tan Dun's Water Concerto with BMOP.
Bob is also the artistic director of BeatCity Art Ensemble, a variable group of multi-disciplined musicians, artists and performers.  BeatCity has created uniquely tailored programs for the National Gallery of Art in Washington, D.C., Lincoln Center in NYC, the Celebrity Series of Boston, and the Rockport Chamber Music Festival.
Regarding his work with Boston Landmarks Orchestra, Bob writes:
Working with the Boston Landmarks Orchestra has been wonderful.  With its unique agenda, inspired by Charles Ansbacher's vision and forged from tireless effort, the Landmarks' summer season of free concerts has become a staple of Boston cultural life.  To be an instrumental part of it (pun!) is indeed gratifying.  Few memories can top that of my delighting Charles with my "one man band" version of the percussion part to Bolero.  The look on his face when he realized the timpani, gong, cymbals and bass drum were all thundering away, in addition to the famous snare drum part, was priceless!  Bravo to Christopher Wilkins and a tireless staff, for carrying on the mission and continuing to grow this indispensable orchestra.
Gregory Vitale, Concertmaster
Greg Vitale has a professional musical career that affords him many diverse performance opportunities. He was born into a family of violinists, and he enthusiastically carries that torch. His father is a retired Boston Symphony violinist, while his mother still performs with the Boston Ballet Orchestra. As Concertmaster of the Boston Landmarks Orchestra, he was featured as soloist on the Esplanade in the summer of 2013. He also plays with the Boston Pops and subs in the Boston Symphony. Greg was once a Fellowship Recipient at the Aspen Music Festival, has performed at the Salzburg Music Festival and was first prize winner of the NEC solo competition in his youth. Among his more whimsical gigs was his stint as concertmaster of the All American College Orchestra at Disney. He has performed as guest soloist with numerous local orchestras, including Brookline Symphony, Wellesley Symphony, New England String Ensemble and Nashua Chamber Orchestra. He has a diverse background, having attended Phillips Exeter Academy, obtained a B.S. in Economics from the Wharton School and subsequently worked in investment banking for a major Wall Street firm… which is now defunct. Apart from an active performance career, Greg collects and deals in antique violins. He is also the proud father of two children, Felix and Frida.
When asked to recount a memorable anecdote about playing with Landmarks, Greg replied:
While playing Lark Ascending with Landmarks on one of the hottest days on record, my wife suggested that I could lose the jacket and wear my shirt tucked out. Worst advice ever.