Building Community Through Music
The Summer Orchestra of a Great City
Because of significant risk of severe weather and lightning on Wednesday both during the concert and during the set up period, we have decided to postpone our performance of "Symphonic Dances" to Thursday, August 23 at 7:00 pm at the DCR's Hatch Shell. Thursday promises to be a beautiful summer day. Thanks to WCVB meteorologists A.J. Burnett  (@WxManAJB) and Cindy Fitzgibbon (@Met_CindyFitz) for their invaluable advice all summer long.
July 11, 2018 6:00 – 8:00pm
DCR's Hatch Shell
"Season Tune-Up"
Join us at the Hatch Shell one week before the concerts begin for an evening of family fun and musical games. Try out real orchestral instruments at our largest "Musical Playground" ever, practice your conducting skills at the "Maestro Zone" to recordings of some favorite classics, get your face painted, and enjoy exhibits from our friends at the Boston Children's Museum, Knucklebones, the Beat Bus, and more.
July 18, 2018 at 7:00pm
DCR's Hatch Shell
The Planets (Opening Night)
In the centenary year of The Planets, the Orchestra welcomes the St. Paul's Girls' School Choir for whom its spell-binding finale was composed. Holst's masterpiece explores the astrological influence of the planets on human personality and behavior. Young musicians of ZUMIX perform an original work echoing Holst's fascination with the human psyche. Other music inspired by the heavens includes Debussy's bewitching Clair de lune. 

Program Booklet
Text-to-Speech Program Booklet
Electronic Braille Program Booklet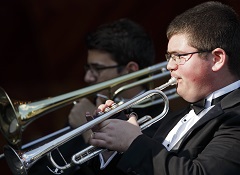 July 25, 2018 at 7:00pm
DCR's Hatch Shell
Boston University Tanglewood Institute
*CANCELLED*
For over fifty years, the Boston University Tanglewood Institute has been among the country's most prestigious musical training programs. These gifted teenagers perform a program built to showcase their talents. It features the Young Artists Orchestra in Stravinsky's electrifying Rite of Spring and the Young Artists Wind Ensemble in music of Leonard Bernstein, who was a mainstay at Tanglewood since he was a student there in 1940.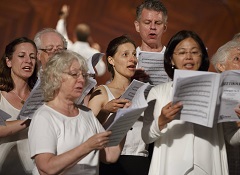 August 1, 2018 at 7:00pm
DCR's Hatch Shell
Verdi Requiem
The Boston Landmarks Orchestra, One City Choir, Back Bay Chorale, and a quartet of soloists combine forces in Verdi's monumental Requiem, a work Hans von Bülow described as "opera in church vestments." The music opens in hushed, prayerful tones, and closes with an impassioned plea for salvation. In its most famous "scene," trumpets surround the audience as if on Judgment Day. It is a representation to rival Michelangelo's.

Program Booklet
Text-to-Speech Program Booklet
Electronic Braille Program Booklet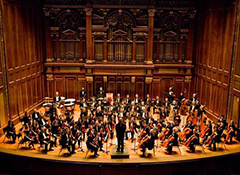 August 8, 2018 at 7:00pm
DCR's Hatch Shell
Longwood Symphony Orchestra
Boston's medical community orchestra has been a leader in innovative programming and community engagement for thirty-five years. Recognizing that music is a healing art, the Longwood Symphony serves the Greater Boston area through performances and programming related to the services these musicians provide in their medical professions. Music Director Ronald Feldman conducts.
Program Booklet
Text-to-Speech Program Booklet
Electronic Braille Program Booklet
August 15, 2018 at 7:00pm
DCR's Hatch Shell
Sounds of the Sea
Animal song and representations of sea life are woven together in a program conceived and presented in collaboration with the New England Aquarium. Debussy's La Mer summons the mysterious power and psychological depths of wind and waves. Stella Sung's seascape creates a watery dialogue between marine and human life. And Moby Dick rises again in the haunting music of Bernard Herrmann, Alfred Hitchcock's most frequent musical collaborator. Sponsored by The Boston Foundation. Rain Date: Thursday, August 16. If it rains on August 16 as well, the concert will be held at Emmanuel Church.

Program Booklet
Text-to-Speech Program Booklet
Electronic Braille Program Booklet
POSTPONED TO:
August 23, 2018 at 7:00pm
Symphonic Dances
Celebrating the 100th birthday of Leonard Bernstein—who made his professional debut as a conductor at the Hatch Memorial Shell—the Landmarks Orchestra performs music to move by from diverse cultures. Boston Ballet II and Peter DiMuro's Public Displays of Motion are joined by dancers from throughout the community. Judging from past programs, the urge for audience members to get up and dance may prove irresistible. Sponsored by Arbella Insurance Foundation.
August 29, 2018 at 7:00pm
DCR's Hatch Shell
Mercury Orchestra
Channing Yu and the Mercury Orchestra return to the Hatch Shell after a highly acclaimed appearance in 2017. The orchestra boasts some of the most talented amateur musicians in the region who come together each year to deliver invariably memorable performances. The final concert of the 2018 season is a journey deep into the heart of the Russian repertoire.  No rain date. If it rains, this concert will be cancelled.
For People with Disabilities
Boston Landmarks Orchestra believes in breaking down barriers for all people. We are proud to be a Mass. Cultural Council UP Organization.
Free for All
We are grateful to the Free for All Concert Fund for its contribution to the orchestra.
Please donate!
Your tax-deductible contribution will help the Landmarks Orchestra bring the transformative power of music to the widest possible audience! Please consider a donation now.
The Landmarks Orchestra believes that Boston—like every great city—deserves a summer series of free orchestral performances. Though the concerts are free to the public, they are not free to produce. Your gift will help support free concerts at the Hatch Shell and throughout Boston this summer, and every summer!
NEIGHBORHOOD CONCERTS AND EDUCATIONAL PROGRAMS
The Boston Landmarks Orchestra is proud to present music education programs and family concerts to engage the hearts and minds of young people and adults throughout Boston's diverse neighborhoods.