2018 Season
July 11, 2018 at 6:00-8:00pm


"Season Tune-Up"
Join us at the Hatch Shell one week before the concerts begin for an evening of family fun and musical games. Try out real orchestral instruments at our largest "Musical Playground" ever, practice your conducting skills at the "Maestro Zone" to recordings of some favorite classics, get your face painted, and enjoy exhibits from our friends at the Boston Children's Museum, Knucklebones, the Beat Bus, and more.
July 18, 2018 at 7:00pm
The Planets (Opening Night)
In the centenary year of The Planets, the Orchestra welcomes the St. Paul's Girls' School Choir for whom its spell-binding finale was composed. Holst's masterpiece explores the astrological influence of the planets on human personality and behavior. Young musicians of ZUMIX perform an original work echoing Holst's fascination with the human psyche. Other music inspired by the heavens includes Debussy's bewitching Clair de lune.  Rain Date: Thursday, July 19. If it rains on July 19 as well, the concert will be held at First Church Cambridge (11 Garden St., Cambridge, MA 02138)
Boston Landmarks Orchestra | Christopher Wilkins, conductor
ZUMIX; Paulina Voices of St. Paul's Girls' School
Edward Elgar Pomp and Circumstance No. 1
Claude Debussy Claire de lune
Lyn Williams Festive Alleluia
Tayler Fernandez Nuñez, Rehanna Fernandez Nuñez, Jennifer Perez, Eleasah Whittaker
Composition guidance and orchestration by Gonzalo Grau Pegasus Promenade (world premiere)
Gustav Holst The Planets

  American Sign Language (ASL) Team: Adrianna Neefus, Christopher Robinson, Kelly Kim
Program Booklet
Text-to-Speech Program Booklet
Electronic Braille Program Booklet
July 25, 2018 at 7:00pm


Boston University Tanglewood Institute


*CANCELLED*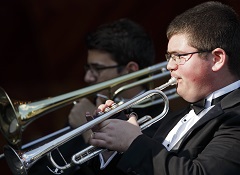 For over fifty years, the Boston University Tanglewood Institute has been among the country's most prestigious musical training programs. These gifted teenagers perform a program built to showcase their talents. It features the Young Artists Orchestra in Stravinsky's electrifying Rite of Spring and the Young Artists Wind Ensemble in music of Leonard Bernstein, who was a mainstay at Tanglewood since he was a student there in 1940.
Young Artists Orchestra | Paul Haas, conductor
Young Artists Wind Ensemble | H. Robert Reynolds, conductor
Leonard Bernstein Candide Overture
Bernstein Suite from Mass
Bernstein Symphonic Dances from West Side Story for wind ensemble
Igor Stravinsky The Rite of Spring
August 1, 2018 at 7:00pm
Verdi Requiem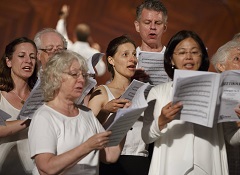 The Boston Landmarks Orchestra, One City Choir, Back Bay Chorale, and a quartet of soloists combine forces in Verdi's monumental Requiem, a work Hans von Bülow described as "opera in church vestments." The music opens in hushed, prayerful tones, and closes with an impassioned plea for salvation. In its most famous "scene," trumpets surround the audience as if on Judgment Day. It is a representation to rival Michelangelo's.

Pre-concert prelude (at approximately 6:20 pm) by the
North End Music & Performing Arts Center Children's Choir
Boston Landmarks Orchestra | Christopher Wilkins, conductor
One City Choir
Back Bay Chorale, Scott Allen Jarrett, Music Director
Meredith Hansen, soprano
Ann McMahon Quintero, mezzo-soprano
Yeghishe Manucharyan, tenor
Nathan Stark, bass-baritone
Gioachino Rossini Overture to Semiramide
Giuseppe Verdi Messa da Requiem
This performance is dedicated to the memory of Robert Honeysucker (1943-2017). His sonorous voice and expressive musicianship graced our stage many times, including our 2008 performance of the Verdi Requiem at the Hatch Shell, and our memorable Beethoven's 9th at Fenway Park. He was not only one of America's finest baritones, he was a true friend of Boston Landmarks Orchestra from our very beginning, and he is truly missed.

  American Sign Language (ASL) Team: Adrianna Neefus, Christopher Robinson, Kristin Johnson
Program Booklet
Text-to-Speech Program Booklet
Electronic Braille Program Booklet
August 8, 2018 at 7:00pm
Longwood Symphony Orchestra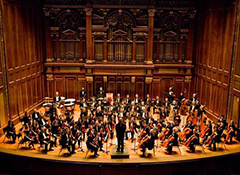 Boston's medical community orchestra has been a leader in innovative programming and community engagement for thirty-five years. Recognizing that music is a healing art, the Longwood Symphony serves the Greater Boston area through performances and programming related to the services these musicians provide in their medical professions. Music Director Ronald Feldman conducts.
Longwood Symphony Orchestra | Ronald Feldman, conductor
Mira Magrill, flute

John Williams Main Title Theme from Star Wars
Ralph Vaughan Williams Fantasia on a Theme by Thomas Tallis
Maurice Ravel Mother Goose Suite (excerpts)
Georges Bizet (arr. François Borne) Carmen Fantasy for Flute and Orchestra
Hector Berlioz Symphonie fantastique (first movement)
John Williams Throne Room and End Title from Star Wars
John Williams Imperial March from Star Wars
Program Booklet
Text-to-Speech Program Booklet
Electronic Braille Program Booklet
August 15, 2018 at 7:00pm
Sounds of the Sea
Animal song and representations of sea life are woven together in a program conceived and presented in collaboration with the New England Aquarium. Debussy's La Mer summons the mysterious power and psychological depths of wind and waves. Stella Sung's seascape creates a watery dialogue between marine and human life. And Moby Dick rises again in the haunting music of Bernard Herrmann, Alfred Hitchcock's most frequent musical collaborator.
Boston Landmarks Orchestra | Christopher Wilkins, conductor
New England Aquarium; Boston String Academy
Timothy Culver, tenor
Brian Keith Johnson, baritone
George Frideric Handel (arr. Hamilton Harty) Water Music Suite (excerpts)
Klaus Badelt (arr. Ted Ricketts) Pirates of the Caribbean
Maurice Ravel Une Barque sur l'océan (A Boat on the Ocean)
Bernard Herrmann Moby-Dick (abridged)
Stella Sung Oceana (world premiere)
Claude Debussy La Mer* (The Sea)
*Dedicated to the memory of Richard Concannon (1929-2018), a member of the Boston Landmarks Orchestra Board of Overseers from 2013 to 2018.

  American Sign Language (ASL) Team: Laurie Achin, Adrianna Neefus, Christopher Robinson
Support for this concert generously provided by: Music Performance Trust Fund (MPTF)
Program Booklet
Text-to-Speech Program Booklet
Electronic Braille Program Booklet
POSTPONED TO:
Thursday, August 23, 2018 at 7:00pm
Symphonic Dances
Celebrating the 100th birthday of Leonard Bernstein—who made his professional debut as a conductor at the Hatch Memorial Shell—the Landmarks Orchestra performs music to move by from diverse cultures. Boston Ballet II and Peter DiMuro's Public Displays of Motion are joined by dancers from throughout the community. Judging from past programs, the urge for audience members to get up and dance may prove irresistible.
Boston Landmarks Orchestra | Christopher Wilkins, conductor
Peter DiMuro/Public Displays of Motion; The Dance Complex; Boston Ballet II; Conservatory Lab Charter School;
Camp Harbor View; Mattapan Teen Center of Boys & Girls Clubs of Boston
Special thanks to the Korean Cultural Society of Boston

Emmanuel Chabrier España
Robert W. Smith Rites of Tamburo
Jake Gunnar Walsh & Devin Ferreira Anke Djé, Anke Bé (world premiere)
Leonard Bernstein Symphonic Dances from West Side Story
Amy Beach Bal masqué
Kyle Newmaster Impressions of Cheonmachong (Korean Three Drum Dance)
adapted from Samgomu, composed and choreographed by Brooke Jee-in Newmaster
Piotr Ilyich Tchaikovsky Swan Lake: Variation of the White Swan
Bernstein (arr. Harmon) Candide Suite (excerpts)
Program Booklet
Text-to-Speech Program Booklet
Electronic Braille Program Booklet
Sponsored by:
August 29, 2018 at 7:00pm
Mercury Orchestra
Channing Yu and the Mercury Orchestra return to the Hatch Shell after a highly acclaimed appearance in 2017. The orchestra boasts some of the most talented amateur musicians in the region who come together each year to deliver invariably memorable performances. The final concert of the 2018 season is a journey deep into the heart of the Russian repertoire.
Mercury Orchestra | Channing Yu, conductor
New World Chorale | Holly MacEwen Krafka, conductor

Dmitri Shostakovich Festive Overture, Op. 96
Alexander Borodin Polovtsian Dances from Prince Igor
(No. 8. Dance of the Polovtsian Maidens and No. 17. Polovtsian Dance with Chorus)
Piotr Ilyich Tchaikovsky Symphony No. 5 in E minor, Op. 64 

Program Booklet
Text-to-Speech Program Booklet
Electronic Braille Program Booklet
Neighborhood Concerts and Educational Programs
Friday, July 6, 2018 at 11:00am
Boston Children's Museum
Free Fun Friday!
sponsored by the Highland Street Foundation
Free Family Concert and Musical Instrument Playground
The Boston Landmarks Orchestra is proud to participate in Highland Street's Free Fun Fridays initiative again this summer! This year's event will take place at the Boston Children's Museum and will include a performance by Landmarks Orchestra musicians and a musical instrument playground. (Instrument Playground begins at 11:00am. Concert begins at 1:15pm.)
*Weather Note: Both the Instrument Playground and Concert were relocated indoors at the Museum.
Program: "The Birth of Jazz"
Sousa The Liberty Bell (1893)
Strauss Artists' Quadrille
Sousa Cakewalk from Three Quotations (1895)
Pryor Lassus Trombone (1915)
Debussy (orch. Caplet) Golliwog's Cakewalk (1908)
Joplin Maple Leaf Rag (1899)
Joplin Sunflower Slow Drag (1901)
Joplin Ragtime Dance (1899, 1902)
Anonymous Just A Closer Walk with Thee (1915)
Beiderbecke Jazz Me Blues (1921)
Jelly Roll Morton Grandpa's Spells (1923)
Handy St. Louis Blues March (1914)
Monday, July 23, 2018 at 6:30pm
Reading Public Library
Free Musical Instrument Playground
A musical instrument playground for all ages at Reading Public Library (located at 64 Middlesex Ave., Reading, MA), presented in partnership with The Musary.
Sunday, August 12, 2018 at 5:00pm
Pinebank Promontory, Jamaica Plain
*CANCELLED*

Free Family Concert and Musical Instrument Playground

Our annual performance at the beautiful Pinebank Promontory, adjacent to Jamaica Pond,  presented in partnership with the City of Boston Parks and Recreation Department and the Emerald Necklace Conservancy. This event will also include a musical instrument playground prior to the concert. (Instrument Playground begins at 5:00pm. Concert begins at 6:00pm.)

Program: "The Birth of Jazz"
Sousa The Liberty Bell (1893)
Strauss Artists' Quadrille
Sousa Cakewalk from Three Quotations (1895)
Pryor Lassus Trombone (1915)
Debussy (orch. Caplet) Golliwog's Cakewalk (1908)
Joplin Maple Leaf Rag (1899)
Joplin Sunflower Slow Drag (1901)
Joplin Ragtime Dance (1899, 1902)
Anonymous Just A Closer Walk with Thee (1915)
Beiderbecke Jazz Me Blues (1921)
Jelly Roll Morton Grandpa's Spells (1923)
Handy St. Louis Blues March (1914)